What is comfort? To feel relieved, to feel safe, and to be clean… These are important elements. We have developed various businesses to deliver comfort to society as a whole.


These include facility management and cleaning, waste disposal, and also dealing with lifelines such as water supply. We are proud to continue to be of service to all of you through this work.


In particular, safety and security are the foundation of everything, and on top of that, a life with a smile is built.


Peace of mind is the source of smiles, and smiles empower people and make them feel good about themselves. We also provide a refreshing space for our customers, give courage to our colleagues, and give hope to society, and then we will revitalize Japan. We will work together with the Homate

In addition, in order to further improve our peace of mind, we will continue to promote CSR management and thoroughness in the little things. Along with it, we will provide reliable work while boosting the satisfaction of existing customers, fostering new client interest, and carrying out value sales.


What we, Homex, should be aiming for is to achieve the corporate philosophy of being a company that creates a comfortable environment. We believe that a sincere attitude from now on will lead to an evaluation of the "genuine."


"We determine what is comfortable and deliver a high level of comfort." We will continue to deliver comfort to society in order to create and maintain a comfortable environment.


I tell myself: "Create more than comfort!"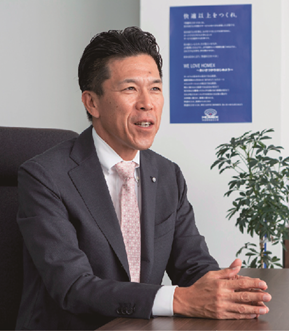 Please feel free to contact us.
Any question or comments? Please feel free to contact us.
Click to Contact